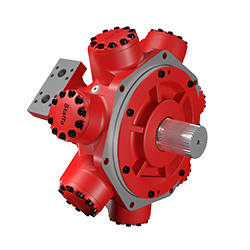 HMB Motors – Single Displacement
Our fixed displacement Staffa HMB radial piston motors have a rugged, reliable and proven design that incorporates high efficiency with good breakout torque and smooth running capability.
188 to 8,000cc displacements in 11 frame sizes.
 250 bar continuous pressure rating.
 300 bar intermittent pressure.
 High volumetric and mechanical efficiency.
 Unique hydrostatic balancing provides minimum wear and extended life.
3D Models
HMB010
HMB030
HMB045
HMB060/HMB080
HMB100
HMB125
HMB150/HMB200
HMB270
HMB325
HMHDB400