National Manufacturing Day at KPM UK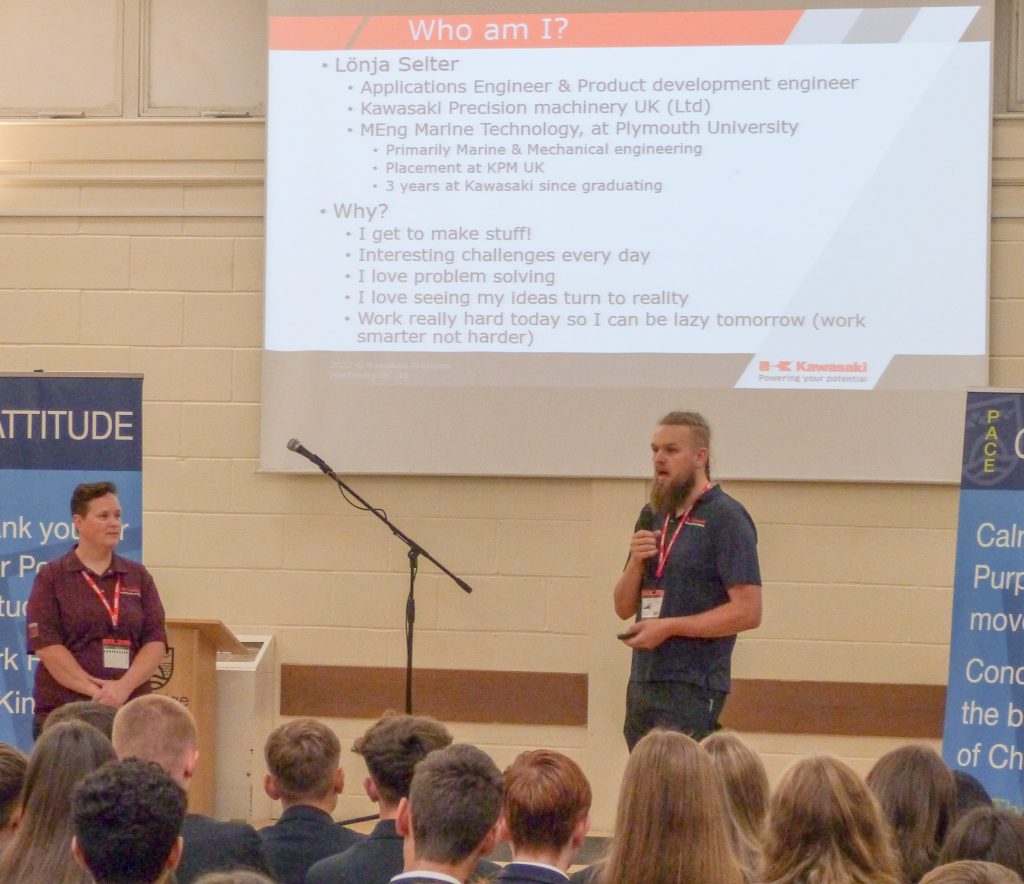 Kawasaki have been out and about aiming to inspire the next generation of manufacturers and engineers around Plymouth in support of National Manufacturing Day. Our colleagues have hosted and visited events organised to show students and young people the future of manufacturing and excite them about the hydraulic industry.
Our colleagues Lönja Selter and Emma Moses (pictured) held a talk to students at Ivybridge Community College. They presented to an assembly of 400 year 10 students about Careers in Engineering, then hosted a workshop and Q&A for a smaller group of around 25 students from Year 10 and 12. It was excellent to receive such positive feedback from the ICC Careers Officer:
"They gave a very inspiring assembly presentation and workshop, which I know our students will benefit from as they consider their next steps and careers pathways. We would certainly welcome them back into school with open arms! Once again, many thanks to you and the team for supporting our students in this way."
Whilst this excellent presentation was going ahead, KPM UK hosted a visit from Plymouth University Technical College's Year 10 students. These students are starting out in studying their T-Levels in Engineering and manufacturing. It was brilliant to see so many eager young people interested in the manufacturing industry. The UTC students were given an intro to the Kawasaki group of businesses, a lesson on the principles of hydraulics from John Glover, and a tour of the manufacturing facility to see what we do here in Plymouth.
The efforts to support National Manufacturing Day don't stop there. Our HR team are on the Plymouth Manufacturers Group stand at the Careers Live event at Plymouth Argyle, giving students (and parents) an opportunity to learn more about what we do and encouraging students to consider careers in engineering or manufacturing.
We are extremely proud to be so involved in these local events and recognise the importance of inspiring the next generation of manufacturers.