Crushers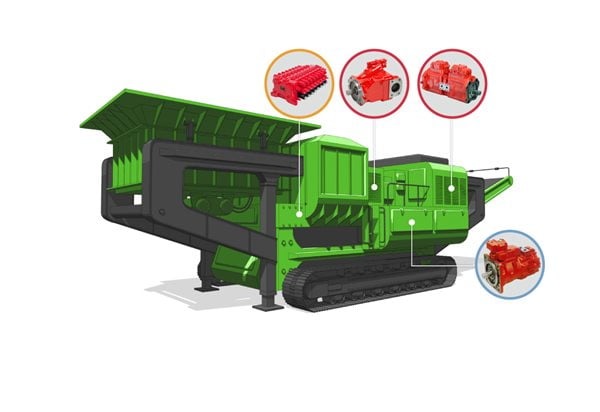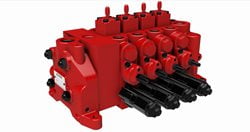 KMP
The KMP series main control valves provide proportional control of agricultural and mobile machinery. They give precise control with pressure compensation and the internal pilot system eliminates the need for external pilot pressure sources.
> 80 l/min inlet flow
> 310 bar pressure rating
> Electro-hydraulic actuation
> Manual override levers for emergency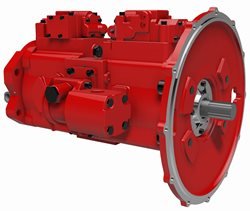 K3V/K5V/K7V
The K3V/K5V/K7V pump range has been specifically designed to meet the demands of hydraulic excavators and other mobile machinery. The introduction of the K7V offers a step change in hydraulic pump efficiency.
> 63 to 212cc displacements available
> 350 bar continuous pressure rating
> Single, tandem and parallel versions
> Wide range of power, pressure and displacement controls available.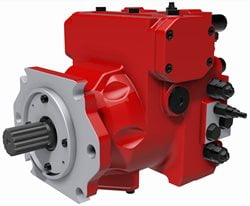 K8V
The K8V series is Kawasaki's new closed loop pump with excellent controllability and superior efficiency. It is used in hydrostatic transmissions ona variety of off-highway machinery.
> 71, 90 and 125cc displacements
> 400 bar rated pressure
> Electronic and hydraulic displacement control
> Through drive and tandem versions available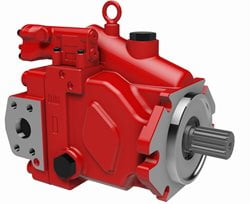 K3VLS
Kawasaki's new medium duty pump, the K3VLS, has been developed for machines and equipment that use a load sensing control system and/or electric displacement control systems. Its launch follows extensive research and development as our engineers combined efficiency with simplicity to deliver the most technologically advanced pump on the market.
> 50, 65, 85, 105, 125 & 150cc displacements
> 280 bar continuous pressure rating
> 350 bar maximum pressure rating
> Load sensing, torque limiting, power shift and electronic displacement controls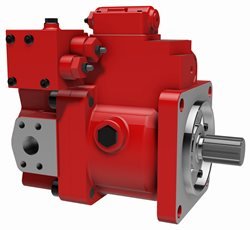 K3VL
The K3VL series swash plate type axial piston pumps are designed to satisfy a variety of construction and off-highway applications where a medium to high pressure variable displacement pump is required.
> 28 to 200cc displacements
> 320 bar continuous pressure rating
> Load sensing, torque limiting and electronic displacement control
> Integral impellor pump available on 200cc unit
> *NEW* ATEX option now available!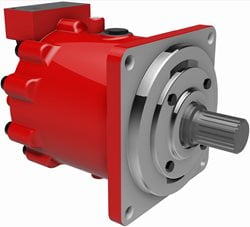 M3X/M3B
The M3X and M3B series are swash plate type axial piston motors in fixed (M3X) and variable (M3B) displacement versions. They are used extensively in mobile crusher drives, cranes and drill rigs.
> 200, 280, 530 and 800cc displacements
> 300 bar continuous pressure rating
> Constant horsepower control option
> Available with parking brake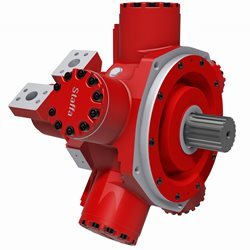 HMC Motors – Dual Displacement
The HMC series variable displacement models have two pre-set displacements which can be chosen
from a wide range to suit specific application requirements. These motors are also available in a
continuously variable version using either hydro-mechanical or electro-hydraulic control methods.
> 492 to 5,326cc displacements in 7 frame sizes
> 250 bar continuous pressure rating
> Dynamic displacement change under load
> Freewheel option available
> Constant horsepower control option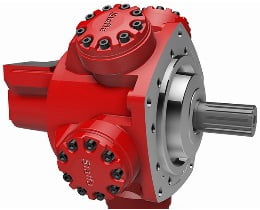 HMB Motors – Fixed Displacement
Our fixed displacement Staffa HMB radial piston motors have a rugged, reliable and proven design that incorporates high efficiency with good breakout torque and smooth running capability.
> 188 to 8,000cc displacements in 11 frame sizes.
> 250 bar continuous pressure rating.
> 300 bar intermittent pressure.
> High volumetric and mechanical efficiency.
> Unique hydrostatic balancing provides minimum wear and extended life.