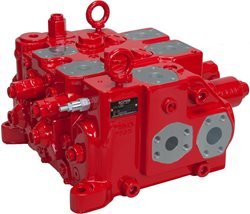 KLW
The KLW is a flow-sharing, load-sensing main control valve specifically designed for wheel loaders. Their low hysteresis and excellent pressure drop characteristics provide superior performance and efficiency.
Post-compensated, flow-sharing design
Integrated lock valves and integrated damping valve for ride control
400 bar continuous pressure rating Regeneration and double actuator ports available
Three sizes with sectional flow rates of 180, 250 and 400 l/min
For datasheet, please contact Kawasaki.