KPM UK Back to Work – Covid19 Safety Measures
On 14th April 2020, our Plymouth factory re-started production after a 2-week shutdown period. In preparation for our employees to return, we did our upmost to put in place the following safety measures to ensure we keep them safe and follow the UK Government guidelines.
---
All employees are given a 'Site Return to Work Induction' on arrival at their first day back to inform them of these guidelines.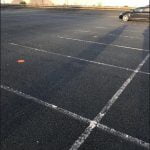 Employees are given staggered shift start times to avoid a rush at peak times and any unnecessary close contact to each other.
In the car park, every other space has been painted with an orange spot. Only these spaces maybe used to ensure cars are at a safe distance apart.
There is now only one main access route into and out of the building to create a one-way-system. This has been marked out with orange dots 2-meters apart to help maintain social distancing.
Upon entry of the factory, there is now a sanitising station which includes hand sanitiser, wipes, and facemasks. Employees are requested to use these before using the clocking machine to avoid cross contamination.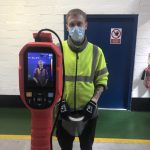 Following that, all employees then have their temperature taken.
Throughout the factory the one-way system is mapped out with red (on grey lanes) and yellow (on green lanes) arrows for easier identification.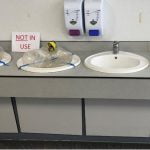 All high-volume access doors are wedged open to prevent any unnecessary interaction.
In the toilets, certain basins and urinals have been taped up to enforce safe distancing.
Access to the canteen is now also one-way, barriers have been put in place to implement this.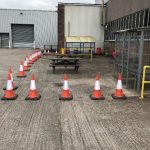 Access to the smoking area has been restricted to one path. The area has been extended to allow for social distancing and the return path to the factory has been marked out with yellow arrows which connects to the one-way system within the factory.
A one-way system has also been set-up to access and exit the offices.
Additional hand sanitisers have been placed in various other areas throughout the factory to ensure employees are using it regularly, especially before and after breaks.
Some of the canteen tables have been marked as 'out of use' and employees have been asked to sit one per table to ensure safe distancing during lunch and breaks.
PPE has been supplied and must always be warn. This consists of safety glasses, hearing protection where mandatory, face mask and face shield.
Posters reminding employees of social distancing rules, increased hand washing, and surface cleaning have been placed on various notice boards around the factory.
In addition, all non-mandatory site visits have been cancelled and delivery drivers arriving on site have been provided with temporary external toilets.
We will continue to ensure the safety and well-being of all our employees during these challenging times and look forward to welcoming back more of staff members when it is safe to do so.
---